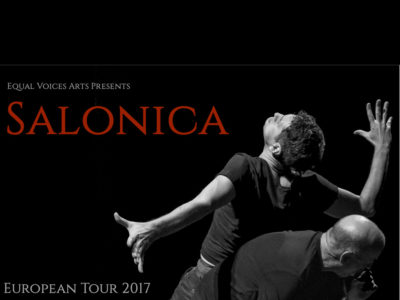 We are bringing our latest show to Europe!
'Salonica' will tour to the UK, Serbia and Montenegro in May 2017.
In 1916 a great multi-national mass of humanity descended on the ancient city of Salonica. Refugees and soldiers created a vast tented city. Hospital ships lay off in the harbour, as a wall of barbed wire was erected. In the lull in the fighting between Christmas 1916 and Easter 1917 two soldiers strike up an unlikely friendship: a Serbian soldier fresh from mountain combat and a Kiwi sapper, survivor of Gallipoli, who has concealed his Deafness to join up, meet. With no shared language they develop a way of communicating through their everyday joys, sorrows and letters home.
With Reportage & story-telling in English, Serbian and NZSL (New Zealand Sign Language), titles in English and scenes in a specially developed form of Visual Vernacular combining natural sign with mime and physical theatre, this new play plays with inclusivity for both Deaf and hearing audiences.
UK Performances:
The Carriageworks Theatre, Leeds – 7.30pm 2nd May 2017. Tickets from http://www.leeds.gov.uk/carriageworks/Pages/Event.aspx?s=5939
Arts Centre, Ormskirk – 7.30pm 4th May 2017. Tickets from https://www.edgehill.ac.uk/events/2017/05/04/salonica/
Z -Arts, Manchester – 7.30pm 5th May 2017. Tickets from http://www.z-arts.org/events/salonica/
Serbia Performance:
National Theatre Belgrade – 8.30pm 7th May 2017.
Montenegro Performance:
Centar Za Kulturu, Tivat – 7.30pm 11th May 2017.