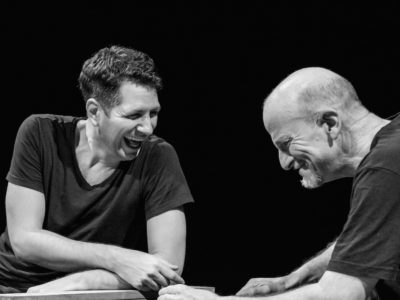 We have collated reviews of Salonica and shared some excerpts here:
'A masterclass in physical theatre'. (Kelley Tantau, Waikato Times)
'The promise at the beginning of the play was succinct. We have a story to tell. They kept that promise from the eerie opening which was in complete silence, to an ending which has wrung the very essence of a tale full of poignant moments and a rare and compelling humanity'. (Sam Edwards, Waikato Times).
'Innovative and inclusive work on stage for the first time in Serbia!' (Blic Magazine, Serbia)
'Bucket loads of the best mime you will have seen for years, possibly ever' (Sam Edwards, Waikato Times).
'This powerful performance impacted on the audience hugely, culminating in a standing ovation here in Montenegro, which continued long after the performance had finished.' (Radio Tivat)
'Absorbingly entertaining.' (Sam Edwards, Waikato Times).
'A poignant story that said so much in so few words.' (Kelley Tantau, Waikato Times)
'Physical Theatre at its storytelling best.' (Dance Manchester, UK)
'This is a show that moves through moments of light heartedness, even whimsy, but ends with a powerful cadenza that leaves me heart struck; at a loss for words'. (Theatre Review)
'Beautiful Salonica by Equal Voices Arts – Refreshing to see different languages used to highlight links not differences…' (Alina Secara, Head of Translation Studies MA, Leeds University, UK).
'Formidable acting pair impress in challenging play' (Dominion Post)
'A fantastic play that speaks about friendship and how we find ways to communicate, even in terrible circumstances. Uplifting and heartbreaking'. (Jane McNulty, playwright and script writing tutor, Manchester University, UK).